When people ask us about parking, we know they're really asking about parking in the Downtown (Old Town) Area. It's not as tough as you might have been told.
Parking tends to run between $2 and $4 per hour. The key is to read the meter as you purchase the time. When you push the increment button, which is in 30-minute and one-hour choices, the EXPIRE time will appear in the window.
Parking in most public spaces is free between Midnight and 8 AM. Therefore, if you are parking on the street at 10 PM, you only need to purchase two hours of time.
When you print the parking pass, notice that one side is a receipt for your purchase. You can tear the receipt of the parking pass. In the event the wind blows your pass out the window, and you receive a ticket, this proof of purchase is your get-out-of-parking jail-free card.
In all our years of parking in Key West, we have not yet had a parking pass blow away or get stolen.
If you do get a parking ticket, the fine will likely be $25. The ticket will be in the form of an envelope. If you are so kind as to put the money in the envelope and drop it at our office, we'll be happy to run the money over to the tax collector's office.
This is not a comprehensive list of all parking in the Old Town area. This list is drawn from our practical experience. If you find a great spot, pass it on to us, and we'll add it to the map.
The map is an interactive Google Map. Click on the pop-out icon in the top left of the header panel on the map to see a listing of the parking areas. Click on the highlighted color; our written description and parking tip will pop up.
US1, America's most scenic drive.
Here's a map to help give you an idea of travel times, highlights, and attractions stretched across the Florida Keys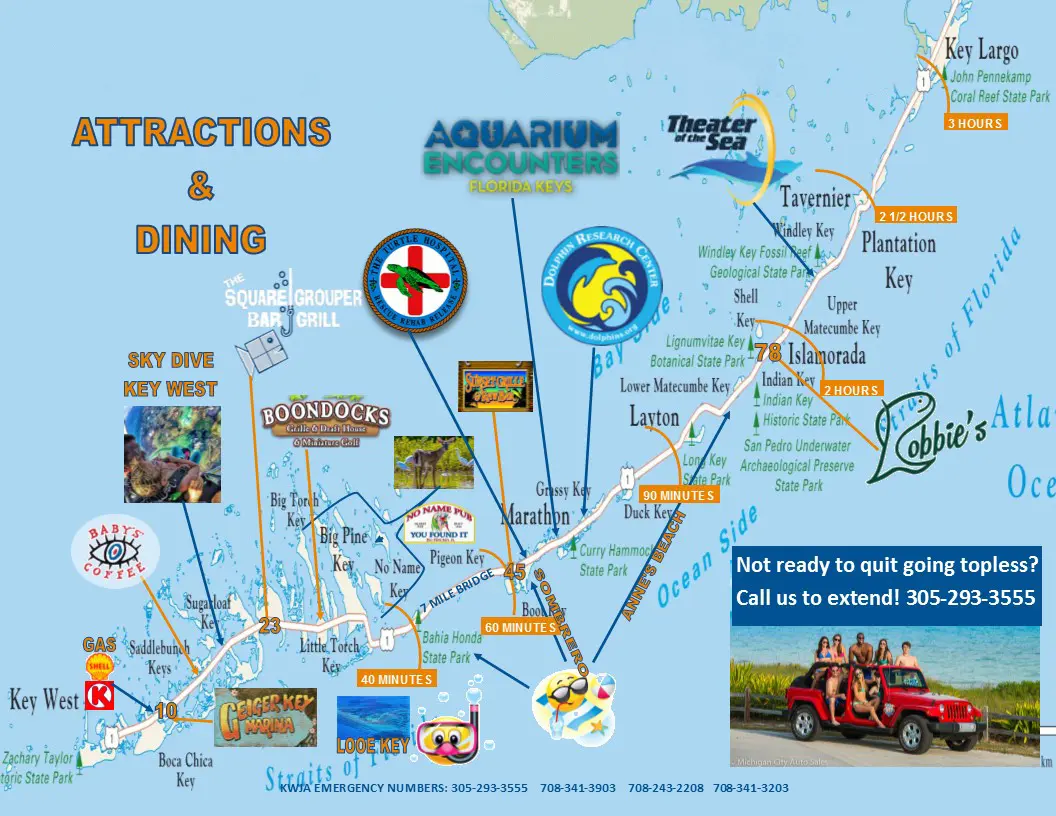 Here is a nice mix of bike trips
Shark's Key to Baby's Coffee – enjoy panoramic views, cross 5 bridges, stay safely out of traffic
Square Circle Loop – enjoy privacy among the mangroves on this abandoned subdivision paved road. Park on Old State Road 4 at the end of Sugarloaf Boulevard. Be aware of the no parking area near the corner. You need to park about 150 feet away from the corner. Walk your bike past the barrier to the Jumping Bridge, a busy spot. Watch for broken glass mixed with the gravel until you get past the Jumping Bridge to Square Circle Road.
Crane Blvd – an easy spot to park and a short but interesting ride. May see Key Deer.
Key Deer and No Name Pub – We suggest driving this route first, perhaps parking at the No Name Pub, and then biking off looking for wildlife.
Southern Scenic bike route of Key West – Everybody wants to ride once around Key West. The north side is very commercial, and traffic gets a little hectic. We believe we show the most scenic route you can safely ride. Make your turn around and spot the Coconut Mallory Marina. They have a nifty Tiki Bar there.
Geiger Key and NAS Key West Boca Chica
Geiger Key is a great 1/2-day or full-day trip in a topless Jeep. We enjoy it for the Sunday BBQ and live music. We love to see jets take off from the Naval Air Station. Click on the map below to see what a trip to Geiger Key might look like.
Geiger Key is also a great sunset spot when the sun is lower in the hemisphere, as in December, January, and February.
Can't wait to see some Jets? Want to see three take off in a row? Click here
Want to see an F18 fly low over the fence and then hit a steep climb? Click here.